The family found its way to Knott's Berry Farm for New Years Eve. Trying to save money we decided to leave the park for dinner and go to Portillo's Hot Dogs. You can walk there from Knott's, which we did but I would advise making sure you have your parking ticket and driving. It is a couple blocks East of Knott's o

n La Palma Avenue.
There is no kids menu at Portillo's so my daughter had to order a normal sized cheese burger. My son ordered the combo-beef and Italian sausage sandwich. My wife ordered the bacon burger and I order the big beef, which is the large size Italian beef. Everything is a la carte so if you want fries they have be ordered

separate

, we got got two large orders. My wife also got a side order of chilli

, with four drinks this meal was about $38.
My daughter could only finish half of her burger so my son and I

finished

the other half. The burger it self had a nice chared

broiled

taste to it. The meat was good but needed to be a bit moister. My son said he liked his

sandwich

but he thought it needed a bit more of the Italian beef. He said the sausage was not spicy but flavorful. It looked like a good sandwich and may be s

omething I try in the future.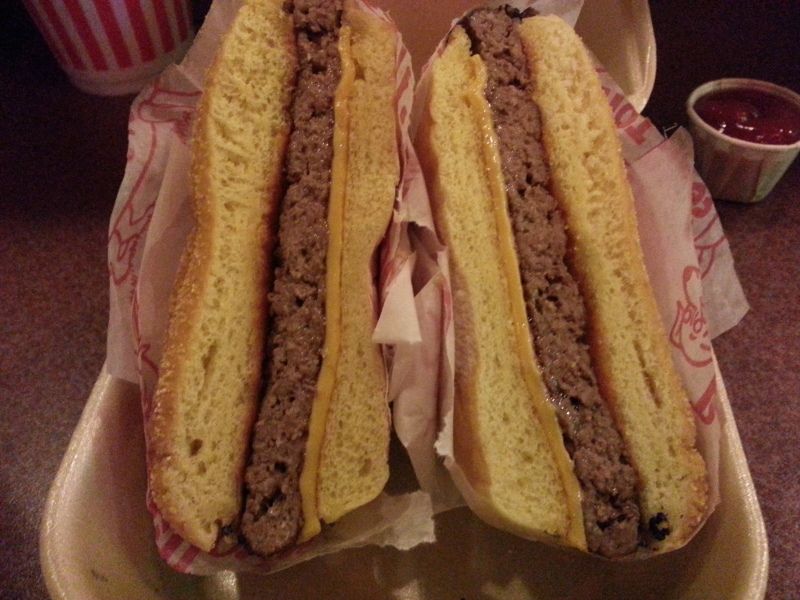 I did not bother to get a picture of the cup of chilli as it was covered in melted cheese and would have just looked like such. The chilli was full of beans and small bits of meat. A slight spice to the chilli gave me a slight kick at the end of each bite. Tons of cheese made this chilli gooey and stringy with each bite. The bacon burger my wife ordered had two pieces of crisp bacon and the rest of the typically fixings. My said that she thought the burger was hand formed and fresh. She said she liked the burger but that it was no

thing special.
I wanted to try Portillo's simply because of the Italian beef. In

m

y many years of watching Food Network I have seen this sandwich but never been able to find a place that

severed

them until now. I ordered the sandwich with no peppers but you can get those added if you like. The bun is dipped in "gravy" w

hich

is the beef au jus. Next time I think I will have them dip the sandwich so it is soaked in beef au jus. The beef was thin and tender. The flavor of beef had a bit of smoke to it but no other real seasoning that I could taste. The sandwich was good but I was exp

ec

ting so much more

. The portion size was good and I did walk out full but not stuffed.
Would I go back to Potillo's Hot Dogs? Yes, I would. The food was good and the prices are much cheaper then the food you will find inside Knott's Berry Farm. Overall the family was satisfied with the meal but no one was walking out of Portillo's singing its praises. My quest for a good Italian beef is over but I still hunger to find an amazing Italian beef. However next time I think I will be trying a sausage or Chicago style ho

t dog.