Linx Artisan Sausage
I had heard about Linx from one of the coaches on the El Modena high school varsity basketball team. He told me about this new sausage and frites place in Orange. It took a me couple

wee

ks to get the family down there but we finally made it. My daughter got a naked dog which is just an all

natural

beef and pork dog in a bun. My son got the Chicago dog, my wife got a custom dog which was a smoked cheddar bratwurst with grilled onion, tomatoes and fritessaus while I ordered a coney dog. We also ordered a ripper, t

wo large frites and two drinks. The total for this meal was about $45.
The nake

d dog

is just that, a dog in a bun with no condiments. My daughter liked the dog and finished the whole thing with only a little encouragement from myself. She said that she did not like the bun because it was too crunchy

. There was nothing wrong with the bun because it was a toasted potato bun.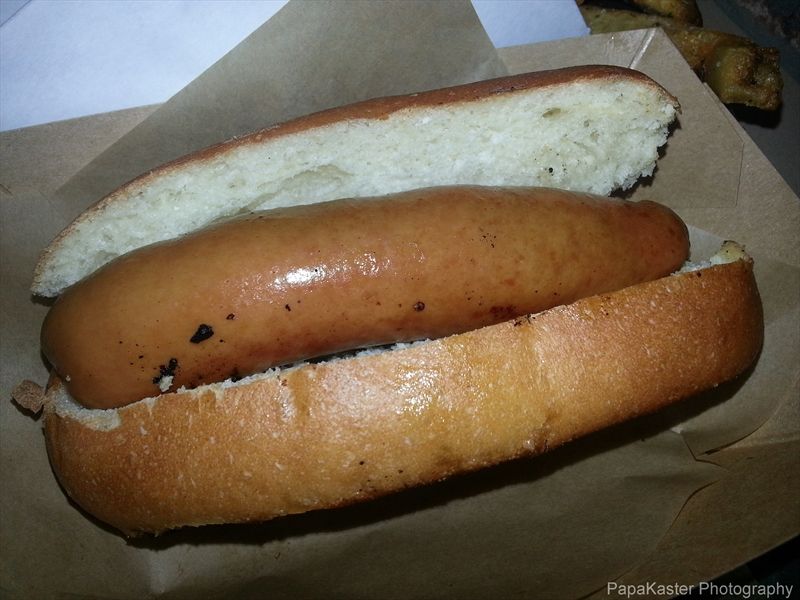 The Chicago dog my son ordered is your classic Chicago style hot dog. This

frankfurter

was covered in neon green relish, vine-ripe tomatoes, beer mustard, pickle spear, a mound o

f

diced onions and celery salt all in a poppy seed bun. My son 86ed the peppers that would normally come on this dog. My son was hesitant about this dog because he said he doesn't like relish but I have been asking my son to try new things, so he did and ended up liking the dog very much. When I asked about the relish he said he could not really taste it because

the mustard was really strong.
My wife made a custom sausage with the Linx smoked cheddar bratwurst, grilled onions, tomatoes and fritessaus. She ha

d all this in a potato bun.

You might be asking what the heck is fritessaus? It was explained to us a kind of house made thousand island dressing. My wife said she liked the sausage and that is was really flavorful. She did not have any complaints about the ta

ste of the food.
My coney dog is the classic coney island favorite. A grilled frankfurter loaded with "chili con coney", yellow mustard, vidalia onion in a potato roll. The flavors in this dog were awesome. The chili had a bit of heat to it, the mustard was tangy and the onions squeak through with a bit of sweetness. The dog it self was moist and full of beefy goodness. I have never had the pleasure of a real coney dog but i

f this is anything close then I hope to one day get that pleasure.

I downed this dog in about four bites.
The ripper is a frankfurter that has been fried

until

is bursts open and then it is topped with grilled onions all inside of a potato roll. Normally it also come with mustard relish but I was sharing this with my wife so it was sans the mustard relish. Once this dog was cut in half it only took me two bites to finish my half. The onions were

caramelized

perfectly, nice dark brown color from all the sugars in the onions becoming nice and sweet. It too was a great tasting dog. No complaints about the taste.
Last but not least by any means were the the Belgian frites. We had two large orders so the family shared the entire stash of frites. With each large order we were able to choose two dipping sauces. We ended up picking fritessaus,

guacamole

, lemon-garlic aioli and blue cheese-bacon aioli. The frites were crispy and

crunchy

while still being soft and fluffy in the middle. The two sauces I used most were the fritessaus and the lemon-garlic aioli. These frites were bomb and

definitely

something special. Not greasy at all and simply

delicious

.
The food at Linx Artisan Sausages was really good, the flavors were spot on and everything was cooked nicely. The service at Linx was also very nice and really helpful. Here is my one and only issue with Linx. The prices verusus the size of food. The naked dog was four bucks, the other dogs were six bucks each. At the end of meal I found myself looking for more food to fill up on, not only myself but the entire family was still hungry. For this price I feel my family should have been full and content which they were not. Does that kill Linx for me? Yes and no. No because the flavor was great, the entire family was happy with how everything tasted. Yes because I am trying to feed a family of four and to do that at Linx we would

probably

need two dogs each and that is not cost effective for me. Overall I would recommend you try Linx just do

n't expect to walk out of there stuffed.