So the family took a week vacation to the state of Oklahoma to visit family. While there we enjoyed many home cooked meals from Granny we also had the opportunity to try a few places while on the road.
After we spent some time at the Oklahoma City bombing memorial. We stopped at The Spaghetti Warehouse. My wife's aunt said this was a "must stop" while in the area, we all agreed and headed over there. I ordered the fifteen layer lasagna, this lasagna was loaded with meat, cheese, sauce and noodles. The meat was present but not a huge factor in flavor. The ricotta cheese was creamy while the tomato sauce was acidic. The noodles were cooked al dente and piled high. I enjoyed this stacked meal and the family also enjoyed their meal.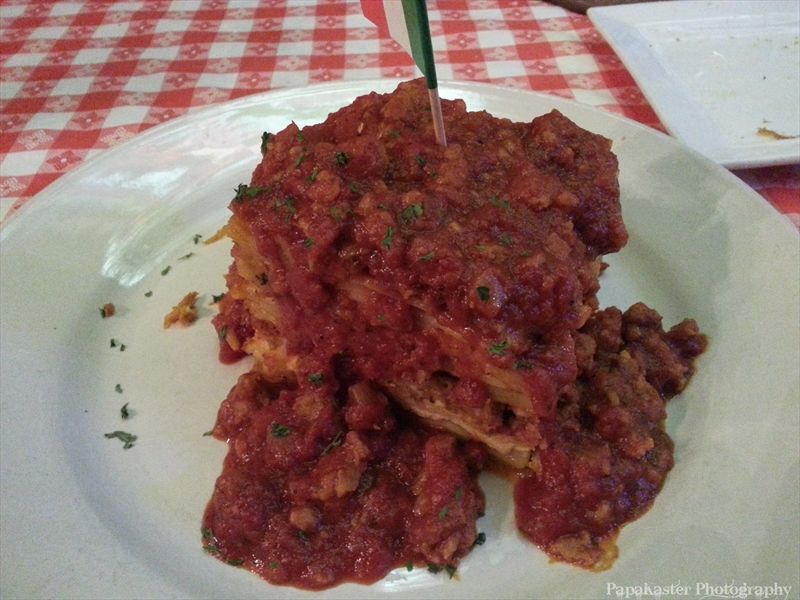 A few days later we were at a local mall to go see the new Oz movie. While there we stopped at a restaurant called The White Buffalo. Looking over the menu here it reminded me of Red Robin with a few additions. While glancing over the options I saw that they serve a Monte Cristo sandwich and that was an easy choice to make. My only experience with a Monte Cristo is from Disneyland and have been trying to find a Monte Cristo outside of Disneyland, with no luck. If anyone points me in the right direction for such a sandwich I would appreciate it. Anyway back to The White Buffalo version of this deep fried delight. The sandwich it self was made with pieces of turkey and sliced ham. For me this made the sandwich too clunky. The bread it self was a bit mushy but overall it was an okay sandwich. Maybe I am just spoiled from Disneyland, but it just wasn't even a close comparison.
On our second to last day in Oklahoma I really wanted to get some BBQ but I was bloated from all the previous home made meals. We were looking to get pizza but eventual ended up getting BBQ after all. There was this small BBQ stand on the corner of a local street in Walters, OK called Smoke Wagon Barbeque. This was a small stand that really looked more like a tool shed but the smell of smoke filled the immediate area. I ordered the combo plate which, as with all good BBQ places, it came with a little bit of everything. The brisket was charred and smokey, the pork was tender and the chicken was still moist. The added BBQ sauce really took this meat to greatness. The hot link was not spicy hot but full of spicy flavor. My only gripe about Smoke Wagon was the beans and potato needed salt and pepper. If I ever get back to Walters this place will be on my to eat list.
There were a few other places that we went to but nothing worth writing about. I really did enjoy my vacation and I think I gained at least five pounds. The home cooking from Granny was top notch and something I will will not soon forget. The restaurants the family visited were good and we all were happy but I was glad to finally be home and not have a stuffed belly 24/7.
The Spaghetti Warehouse on Yelp
White Buffalo on Yelp