Urban Grill and Wine Bar
27412 Portola Pkwy, Ste. D
A few co-workers of mine have been going to Urban Grill and Wine Bar for lunch and then bringing back food to the office. They rave about the food every time they eat lunch there and the food has always smelled really good. Based on these many missed lunch opportunities I finally took myself over there for lunch. The lunch menu has many tasty looking options and I was torn between the turkey sandwich or the burger. I asked my waitress and she said the burger was the choice. So the burger is what I went with, and with a lemonade to drink the bill was about $16.

I ordered the LaFrieda Burger for $12. It is a blend of short-rib and chuck for the patty that is cooked to your desired temperature. It is then covered in aged cheddar, crispy onion strings, lettuce, dill pickles, tomatoes and special sauce. The burger comes with a choice of fries or a house chopped salad. I went with fries. The burger it self was was so moist that the juices were dripping all over the plate. The flavor of the meat was nothing but pure beef. The sour dill pickles really came through which I fully enjoyed. The crispy onion strings and lettuce added a nice crunch while the tomato added to the overall juice factor and a bit of sweetness. This was placed between two soft buns that were lightly toasted. The fries were thin, crunchy and season perfectly.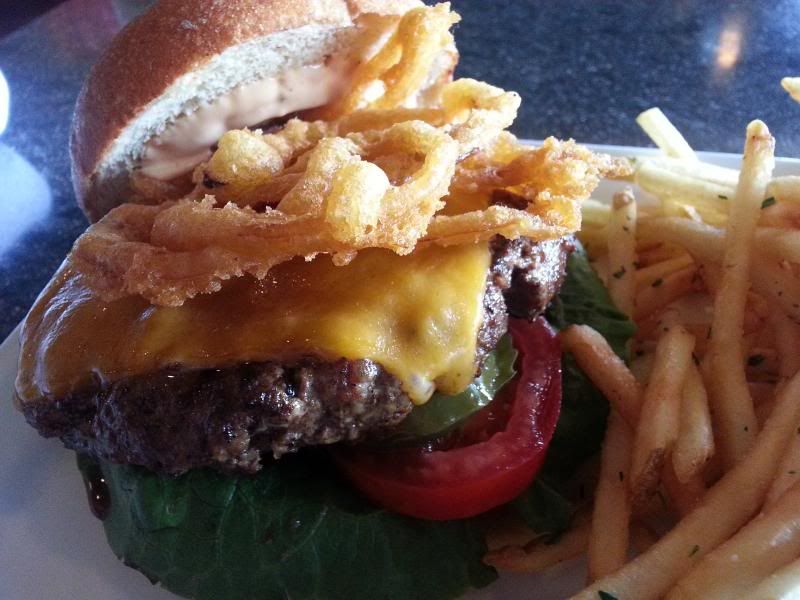 This burger didn't stand a chance. I devoured this burger in minutes and was full for the rest of day. I was so satisfied I wanted to nap after this burger. I am always looking for the classic all American backyard burger and the LaFrieda Burger nailed it. I could not have asked for anything more in between those buns and would not have wanted anything less. The chiefs at Urban Grill and Wine Bar got this right, plain and simple. I would easily recommend anyone near Urban Grill get over there and order this burger without hesitation because you will not be disappointed.