Fantastic Cafe
Always on the look out for good yet inexpensive breakfast, our search brought us to Fantastic Cafe on the recommendation from a co-worker. I have passed Fantastic Cafe hundreds of times traveling down 17th Street and have thought in my head I need to stop and check this place out. The family had a free a morning so we did just that.
My daughter ordered the two pancakes, two eggs, two sausage and two bacon meal deal and it was less then five bucks. I though this was the meal of the morning. The pancakes were fluffy with a hint of vanilla in them. With the addition of syrup my daughter was loving every bite of the hot cakes. She chowed down the sausage which was good to her and the bacon was crisp like good bacon should be. She even said that she thought these were some of the best eggs she had every tried. Except her mom's eggs of course. My daughter ate until she was stuffed full and satisfied.
My son ordered the sausage and egg breakfast burrito. This burrito was loaded with three eggs, a heaping pile of crisp hash browns and three or four sausages. My son said the burrito was good but he thought the hash brown were lacking some salt and pepper. He managed to eat half of this burrito before he tapped out and called it quits. Such a simplistic looking burrito but it filled my son quickly and left him happy until dinner time.
My wife got her self an order of steak and eggs. This order came with the steak, three eggs, hash browns and toast. The steak was cooked nicely and even had the visual appeal of perfect grill marks.
The steak was thin yet still moist and tender. The eggs were done to correct temperature my wife asked for, over medium. The whites were fully cooked with a still runny yolk. The hash browns were crisp and filled out the rest of her plate. My wife said the breakfast was good and she too was happily stuffed to the brim.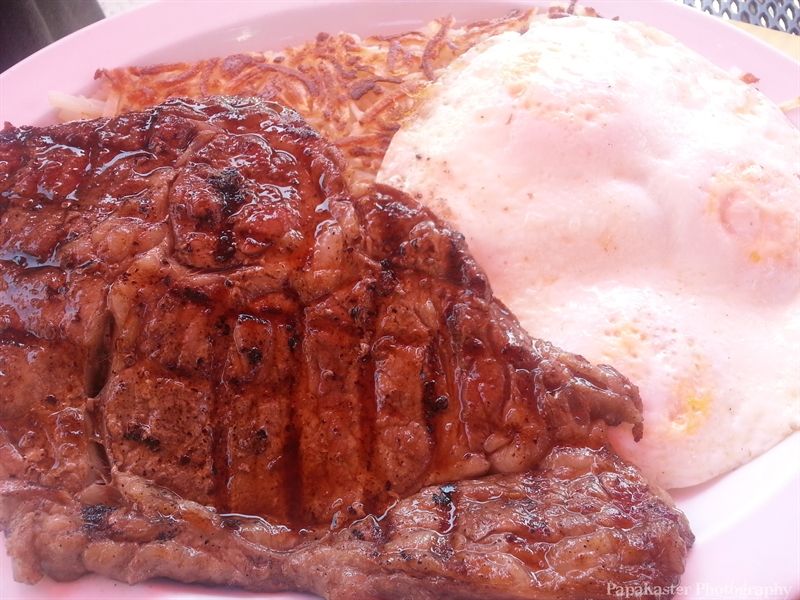 If you have been reading PKE for any amount of time or stumbled across one of my breakfast posts you know that my favorite breakfast meal is a ham and cheese omelet, so it was an easy choice for me. My omelet came with hash browns and toast. The omelet was three eggs with a lot of chopped ham mixed in. There was cheese folded into the center of this omelet and two slices topped the mound of meat and eggs. The omelet was cooked just right, giving me the crispy edges and soft inside. I dislike an omelet that is not cooked all the way and still bit a runny, none of that here. The hash browns here done just right, crunchy and crispy on the outside while staying soft and delicate on the inside. As with the rest of my family I was quite content with my meal and one happy Papa.
This entire meal with drinks was only about $35. The service at Fantastic Cafe was excellent and the food came quick with table side service. For anyone needing a quick, cost effective and tasty breakfast then I recommend checking out Fantastic Cafe. My next adventure into this restaurant will be to some of the other menu items that looked equally as good as this breakfast. As an added bonus Fantastic Cafe serves breakfast all day so you can get your morning grub on anytime of the day.
Fantastic Cafe was a fantastic surprise to me and my family!