949-916-5221
My co-workers have ended up being a good source to find restaurants that I have never been to before and also serve up great food. Da Lu'au Hawaiian Grill was no exception. I ended up there on a Friday afternoon and parking was scarce. I did find a parking spot and inside Da Lu'au there was small line even at 11:30am. I ordered myself the two item combo with Kalua pork and chicken Katsu. This also comes with two sides, so I got white rice and potato, macaroni salad. With a drink this meal was about $11.50.
After ordering to eat there you are handed a number and off to find a table. There were plenty of tables and even outside seating. The wait for my food was not long and it was delivered to my table by a friendly member of the staff. I started with the Kalua pork and this is some of the best Kalua porks I have ever had. The pork it self was full of smokey flavor but not so much it was over powering. The meat was tender, moist and had tiny bits of fat that really added a nice richness to the pork. I moved to the chicken Katsu next. The chicken was breaded and fried to a nice crisp texture. The chicken remained moist on inside. I had one small issue with this chicken Katsu and it was the dipping sauce. This sauce reminded me more of barbecue sauce then the sweeter teriyaki sauce I am used from most other Hawaiian BBQ places. The side dish potato, macaroni salad was a mix of the two and normally it is just mac salad. This combo was good but not the best mac salad I have had and crave for at times. The white rice was pleasantly sticky and worked well with Kalua pork.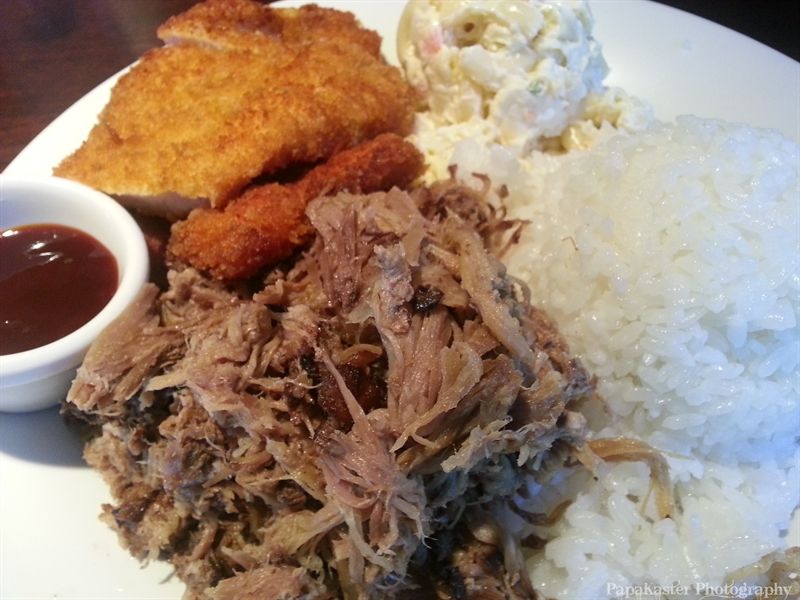 Da Lu'au Hawaiian Grill left me stuffed and ready for a nap, which would have been a good thing if I still didn't have half my work day left. The food was awesome, the portion sizes were generous and the staff was super friendly. I know that Da Lu'au will remain in my memory rolodex of lunch spots when I need a Hawaiian BBQ fix.