415 South Associated Road
I first stumbled across The Meat House in Costa Mesa and I was in awe when I first walked in the door. But that day I was looking for place to eat and not a place to buy meat. So Father's Day comes around and my Dad said he would like to barbeque hot dogs and hamburgers, so I think to myself that I want to get Pops some good meat and not something from the local grocery store. That was when The Meat House came to mind and I find out they also have a location in Brea. Score! The family headed over there before our Father's Day barbeque with Dad and grabbed some meat.
The Brea location is tucked away in a dense shopping center right off the 57 freeway at the Imperial Highway exit. If you are familiar with that area it is in the same shopping center as Lucille's Smokehouse BBQ. We easily found the store front and walked in and again I was in awe with this location. The side counter was loaded with fresh cheese from more places then I could count. The meat counter, front and center was load from edge to edge with fresh cuts of meat. Anything from hand made sausages, pre-made burger patties, fresh hot dogs, and a lot of nice looking cuts of beef.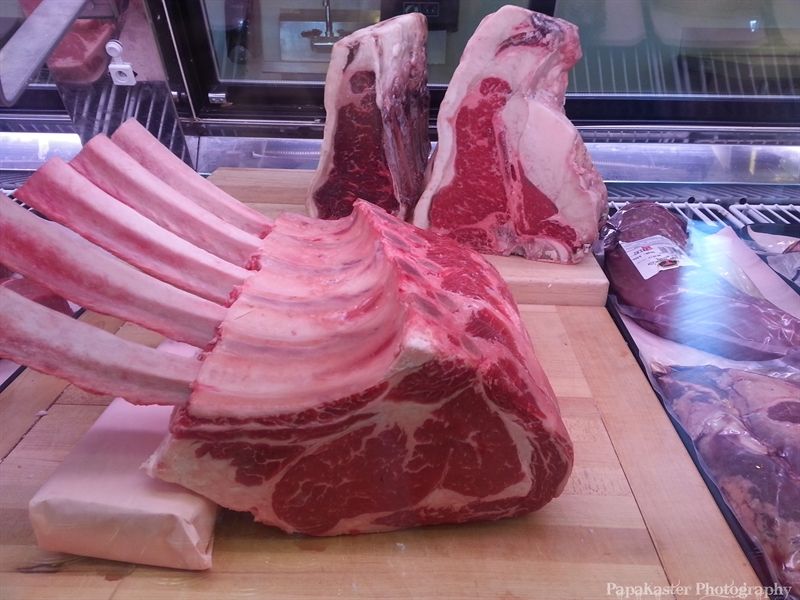 We went with the all beef hot dogs and the cheddar, bacon hamburger patties. The hot dogs were $6.99 a pound and the patties were $8.49 a pound. We also got freshly sliced cheese, fresh rolls for the hamburgers and hot dogs and we got a jar of the most amazing pickles I have ever had. The total for this haul was about $45 bucks. Now I know this sounds expensive for hot dogs and hamburgers and I would tend to agree but the quality of these meats was well worth the cost.
I ended up cooking the meat and I must say that everything turned out fantastic. The burgers were juicy, full of beefy flavor with a enough cheddar and bacon to let you know it was there but not overpowering the beef. One of these burgers and I was almost too full to enough my hot dog, I said almost. The hot dog it self was also moist and spiced just right. This all beef wiener was a winner in my book and my Dads. So much so that my Dad had proclaimed to his wife that he must have more the next time we barbeque.
I wish more places like The Meat House existed. The service was outstanding, the quality of the food, both the meat and the other items were superb and for what you are getting the prices were fair. I would highly recommend that you take the time to check out your local The Meat House or even drive to one of the three location here in SoCal. Oh and if you want to really splurge they have all kinds of exotic meats and dry aged beef as well.
The Meat House
The Meat House Brea on Yelp