985 E. Birch St., Suite D
I have know about Pei Wei Asian Diner for a while now but have never taken the time to check them out. Recently I was contacted by a member of their PR group. I was asked to go check out the new menu at the Pei Wei in Brea, CA. For doing so I was given two twenty-five dollar gift cards. I used one for my meal and at the end of this post you will have the opportunity to join a giveaway for a chance to win the second twenty-five dollar gift card.
Having never been to Pei Wei before the family spent a few moments checking out the menu and I also wanted to try a few of these new menu items. To start we ordered a small ginger and orange edamame, Thai chicken lettuce wraps, and the Korean steak lettuce wraps. For our main dishes the little one got honey seared chicken, my son got ginger and broccoli steak, my wife got Mongolian steak and I got orange peel chicken. With drinks this meal was about $53.
I started munching on the ginger and orange edamame, these were not like other edamame I have had in the past. The edamame were tender but not mushy. The ginger flavor was prevalent with some sweetness from the orange. I was surprised by how much I liked them but even more surprised because my daughter really enjoyed them too! So much so that she brought what was left of the edamame home to snack on later.
Then came the two different lettuce wraps we ordered. I started with the Korean steak wrap. The "steak" reminded me more of ground or chopped beef then steak. When I saw steak I was thinking there would have been strips of meat and not the ground texture that it was. However that aside the Korean lettuce wraps were a hit with the family. The level of spice added a good kick of heat while the cold lettuce helped to cool it down. I very much enjoyed these wraps despite the "steak".
Next I tried the Thai chicken lettuce wraps. As with the "steak" wraps the chicken seemed to be chopped really fine. But I had an issue with the flavors in this wrap. It was not horrible tasting but there was just something about this that I did not like. I'm not sure if it was the over powering taste of onions or the pungent flavor of cilantro. These wraps weren't liked by any member of the family and it is not something I would ever order again.
The honey seared chicken looked good but I did not try a piece because the portion size was small and I wanted to make sure my daughter got enough to eat. She did say how much she liked the chicken and even attempted to use chop sticks, but in the end she decided it was too hard. So she was using one chop stick like a spear to eat the chicken pieces. This worked for her and it allowed her to gobble down all of the chicken. It was good to see her having fun while eating and also enjoying her food. Not sure why but I spaced on getting a picture of my daughter's dish.
My son ordered the ginger and broccoli steak or broccoli beef in my eyes. Like always we shared our main dishes so I grabbed a couple pieces of beef and broccoli. The beef was tender and the sauce very much reminded me of the sauce you get at P.F. Chang's. The broccoli was crisp and bright green when added with some of the sauce it was just about perfect in my opinion. My son had no problems finishing his meal. He also said that it was just as good as P.F. Chang's.
Mongolian beef is pretty much a go to item for my wife and I when ordering at P.F. Chang's so it was an easy choice for my wife here at Pei Wei. Again I was pleasantly surprised to find that this dish was very similar to what you would get at P.F. Chang's. The beef in this was also tender, the green onions added a nice hint of flavor and my wife said the mushrooms were good. The mushrooms are something different that Pei Wei does and my wife was a happy camper to see this addition. She loves mushroom on her steak so this was a natural fit for her.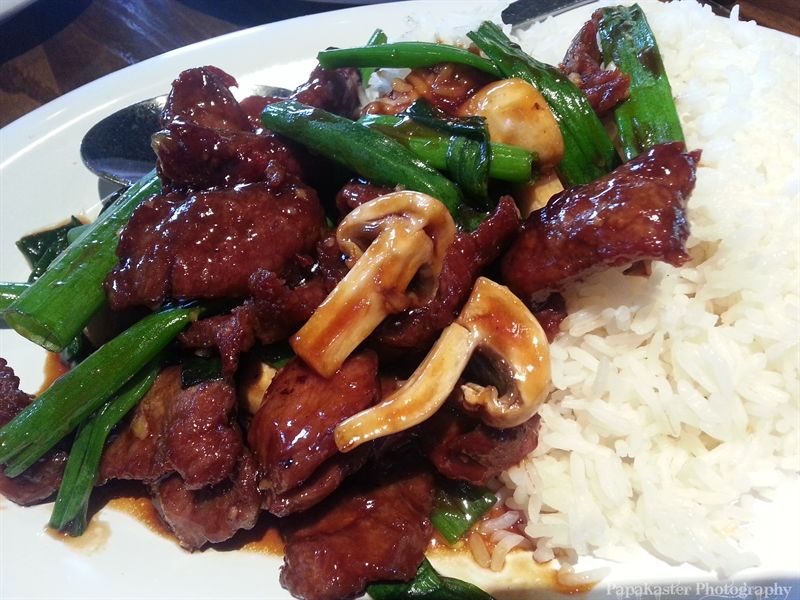 Not knowing what to get but wanting to get something other then the norm, I decided to get orange peel chicken. This is a dish the family has never got at P.F. Chang's so it was new to all of us. The chicken was moist and delicate. The coating was thin but added a bit of crunchy texture. The sauce was sweet and full of garlic. The heat was just enough to tickle the back of your throat to let you know it was there. The addition of fresh snow peas added some flavor and texture contrast that helped the dish. The snow peas were fresh and crisp which worked well when putting some of the sauce on them. This was very well done version of orange chicken and something I will have to order again.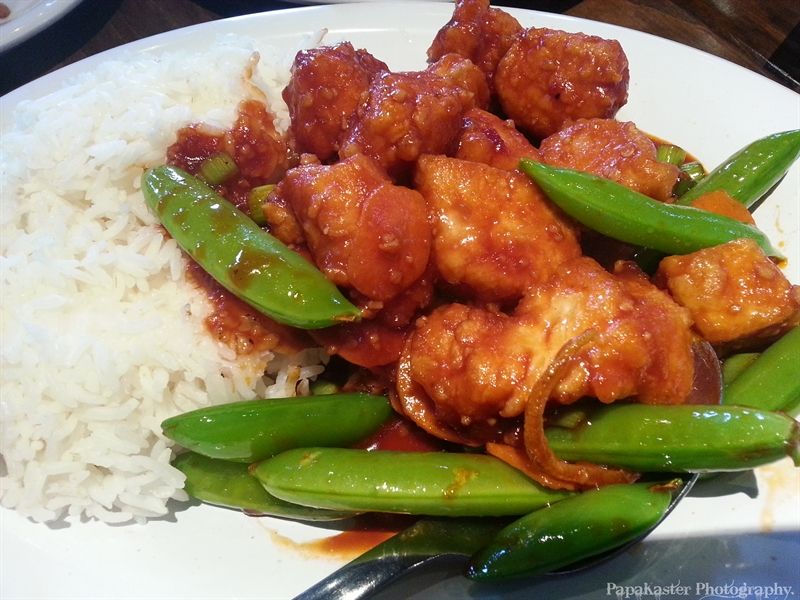 Being that Pei Wei is basically the fast food version of P.F. Chang's I did expect some of the main dishes to be similar, they were and that made the family happy. We love going to P.F. Chang's any chance we get and now we can get our fix more often. The Brea Pei Wei location was great, the service was friendly and helpful. The food came to our table quickly and the portions for the prices were fair. The only down side for us was the Thai chicken lettuce wraps. I would definitely recommend any of the other dishes we tried and recommend you head on over and try them for your self.
Pei Wei
Pei Wei Brea on Yelp
Now for the fun part, a giveaway! Here is your chance to enter and win a $25 gift card to Pei Wei Asian Diner within the U.S. This gift card is good at any Pei Wei location so you do not have be in California to win. Make sure to head over to
PapaKaster Eatin'
and like the fan page if you have not done so already.
a Rafflecopter giveaway