El Matador
It's not often my wife and I get a night out alone or a night out with friends. On this night we spent it with good friends that we have not hung out with in a long time. My friend plays guitar in multiple bands and he happened to be playing in Costa Mesa. We all wanted to meet for dinner and his suggestion was El Matador because it was within walking distance of the venue. This worked for my wife and I so we met our friends at El Matador for dinner.
The parking for El Matador can be a pain but there is parking in the back so keep that in mind. When we first walked into the restaurant, this place was packed! The service was attentive and took our order as soon as we were ready. My wife got a chicken enchilada with green sauce and a chicken taco and I got a Mexican pizza. With two sodas the bill was around $30.
My wife enjoyed her meal. She said the chicken in the enchilada and the taco was moist and tender. She said the green sauce was good and flavorful and she said the taco was crisp and crunchy. I was too busy with my Mexican pizza to even try what she ordered but from the picture below you can see it looks like one heck of meal.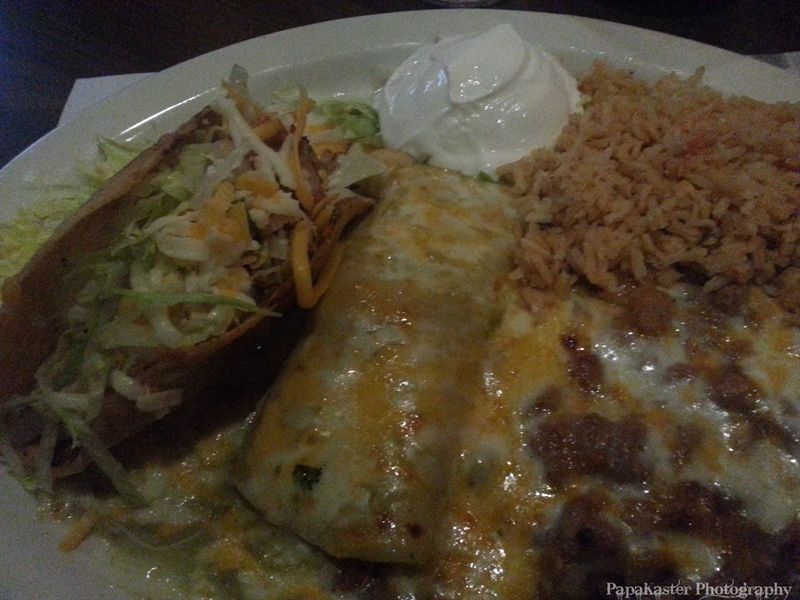 The Mexican pizza was described as
crisp flour tortillas topped with shredded or ground beef or chicken, chopped onions, peppers, tomatoes, sauce and melted cheese. I got mine with chicken. There were also some beans in the mix of ingredients. This sounded good to me and it was something that I have not had before. When the plate was placed in front of me this Mexican pizza covered the entire dish and it was coated in melted cheese. I started to blindly eat the crisp pizza but was kicked in the mouth by the heat from the peppers. Wow was it hot, beyond what I like so I was on a pepper hunt from that point on. With the heat gone from the pizza I was able to enjoy the rest of my food. The chicken was shredded but remained moist. The flour tortillas were crisp, the beans were creamy while the chopped onions and diced tomatoes added some tartness and sweetness. The melted cheese held all components firmly to the tortillas so each bite was loaded with flavor. I was surprised at just how filling this Mexican pizza was, I'm glad I didn't try any of my wife's dish so I had plenty of room for mine.
I love finding new places like El Matador. I have driven by this restaurant countless times but just never had any interest in stopping to try it. Well I am certainly glad my friend recommended El Matador because it was worth the stop and it is a restaurant I can easily recommend to anyone. If you are in Costa Mesa for any reason then it is a must. If you are near Costa Mesa then I would say take some time to head to El Matador, I do not think you will regret it.
El Matador
El Matador on Yelp