Hapa Cupcakes
1210 Jefferson St., Ste. Q
Last week I was invited by the ladies of Hapa Cupcakes to come to their location and try a few of their signature cupcakes. Hapa Cupcakes is currently sharing a suite in a industrial complex with a deli. I personally had a little trouble finding the place but my sweet reward was worth the minimal effort.
Currently Hapa Cupcakes is mostly an online business where customers can order many different kind of their signature alcohol infused and/or classic cupcakes. When an order is received Akemi and Hanayo jump into action and can have your order ready for pick up quickly. The store front is the location for your pick up but you can walk in an order a hot cupcake sundae. What is that you may ask?
The picture does not do this cupcake justice. The warm cupcake, slowly melted the vanilla ice cream which gave me the best of hot and cold at the same time. The cake was soft and moist while still being full of rich chocolate flavor. The chocolate sandwich cookie pieces added a nice crunch to each bite. This was a hot fudge sundae but in cupcake form. I'm sure I looked a fool while eating this in front of Akemi and Hanayo and trying to find out more about their appearance on Cupcake Wars. I spent a little bit more time chatting with them and was given a four pack of cupcakes to take home for later.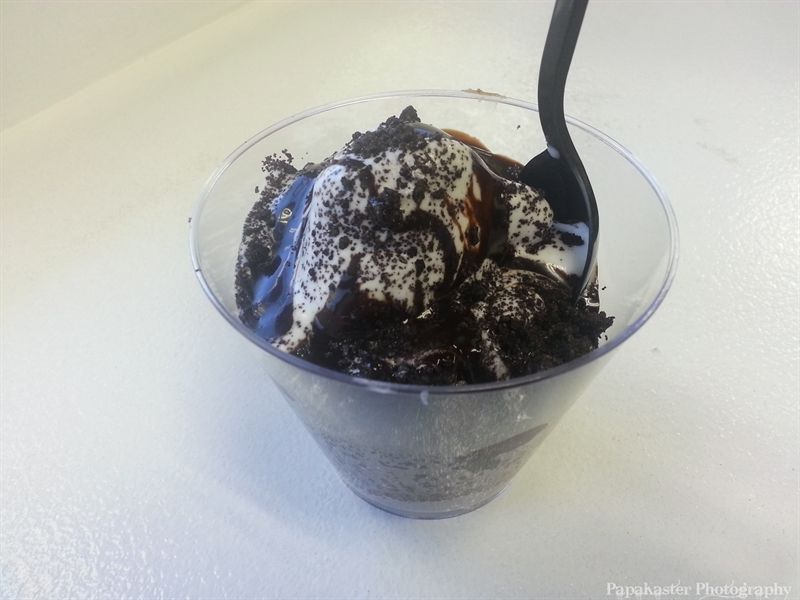 When I told my wife that I was going to taste cupcakes she said that she wanted some herself so it was pretty awesome that Hapa Cupcakes gave me this four pack so I could share them with the family. I like hearing what my family has to say about the food we eat so we ended up each sharing a bit of all four cupcakes.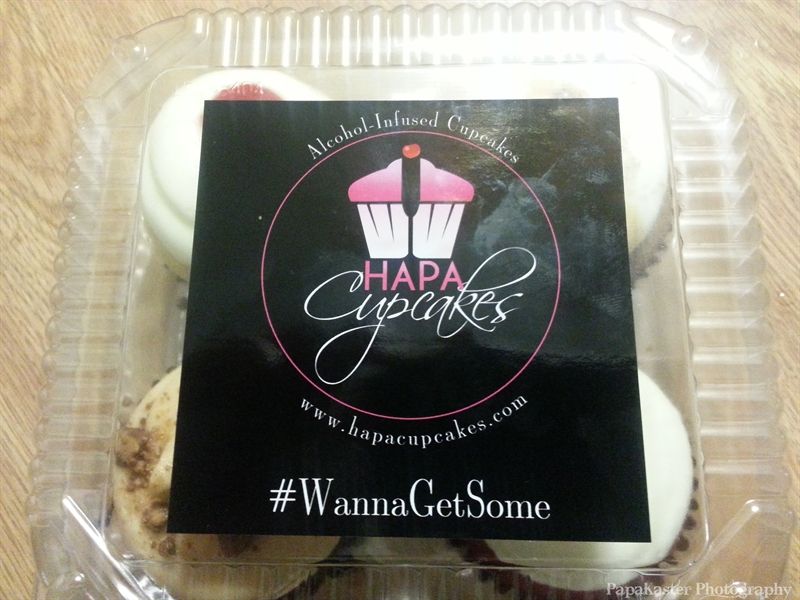 We started with the "Red Velvet Stiletto" which is a classic red velvet cake with a cream cheese frosting and candy red heart. No booze in this cake but it did remind me of a classic red velvet cake. The cake was spongy and moist while the frosting was sweet but not too rich. The chocolate flavor was present but not over powering. A very well made and tasty cake.
Next we dove into the raspberry vanilla cupcake, which is only available to people in the know. This was my wife's favorite cupcake. This cupcake was full of vanilla flavor from the cake it self and from the frosting. The small dollop of raspberry added a hint of tartness to the cake. I personally would have liked a little more of the raspberry flavoring.
"Nuts about you" was our next cupcake. This is a Valrhona chocolate cake with a peanut butter cream cheese frosting. This was the winner for my son and my daughter. My son said this cake was rich and chocolatey. My daughter loved it because it was chocolate and peanut butter, two of her favorites things when they are alone, put them together and she was happy as can be. It very much reminded me of a peanut butter candy cup, you know which one I mean. All the flavors were spot on and the cake it self was delicate.
Last but not least we ended with the "Will you remember me in the morning?" cupcake. This is a Madagascar vanilla and Kahlua cupcake with bits of cinnamon streusel and topped with cream cheese frosting. The smell of cinnamon was coming off this cupcake as soon as my fork went into it. The cake it self reminded me of pumpkin pie, I thought I could taste some nutmeg in the cake. The cream cheese frosting was just enough to kick up the sweetness without being over powering. While the bits of streusel added texture to the cake.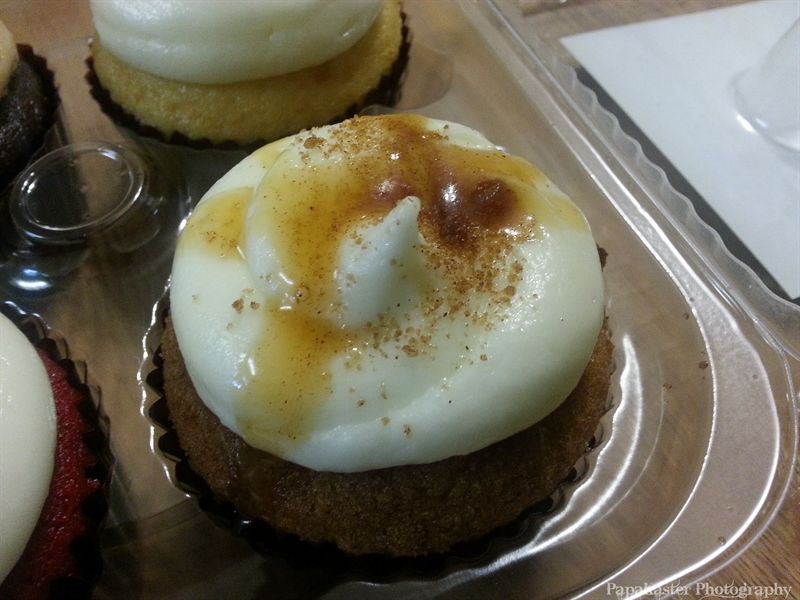 As for me, my favorite out of all the cupcakes I tried was easily the hot cupcake sundae. These little cups of a chocoholic's dream come true were just perfect. All the cupcakes by Hapa Cupcakes were moist, I know I sound like a broken record but it's true. All the cupcakes were light and fluffy while still having some bounce to them that gave a really good mouth feel. None of the frosting were cloyingly sweet and all were the perfect accompaniment to the cupcakes. Make sure you check out the link to Hapa Cupcakes web site if you are interested in ordering.
Hapa Cupcakes
Hapa Cupcakes on Yelp