Spin! Neapolitan Pizza
1623 W. Katella Ave., Ste. 102
I'm not sure how long Spin! Neapolitan Pizza in Orange has been open but I saw the sign a couple times when visiting other establishments within the area. I decided it was time to check this place out. They took the space that used to belong to Bob's Big Boy so if you are familiar with the area it should be easy to find. When we walked in we were greeted by a friendly staff member that explained how to order. We got my little one a kids pepperoni pizza while the rest shared a #9 -
BBQ di Pollo and Pineapple and a #10 - Tre Carni. With drinks this meal came to about $42.
After ordering you pay for your meal and then have a seat. A staff member then brings you your food after it is ready. I have been to a few other places like this and I am not a huge fan of this type of setup. If I am sitting down to eat I would prefer to do it all at the table but on this night things were not busy so it was not a hassle.
The food came quickly and my daughters child's pizza was nicely sized. My daughter devoured all four slices with little regard for the temperature of the melted cheese. She said she really liked this pizza and that she enjoyed the peperoni. She was very pleased with her meal and definitely enjoyed the child's sized gelato that came with her dinner.
My son, my wife and I shared the other two pizzas. The first slice I tried was the BBQ di Pollo and Pineapple which is roasted chicken, fresh mozzarella, caramelized onions, roasted pineapple, and Lucille's BBQ sauce. We got our pizza minus the pineapple since my wife is allergic. The pizza was littered with chunks of chicken that were tender and moist. The sauce was classic Lucille's BBQ sauce that added and nice tang with a tiny hint of heat behind it. The caramelized onions were a little too scarce for my liking, I wish there would have been more. If you like caramelized onion you may want to get extra added to the pizza. But the onions did add a nice hint of sweetness. The crust of this pizza was thin and crispy but pliable enough to still fold for easy eating.
I tried the Tre Carni second and this pizza is made with roasted meatballs, pepperoni, and Italian sausage. What a great pizza this was, the crust on this pie was also thin and crunchy. The amount of tomato sauce was just the right. You knew it was there and it added a good amount of moisture to the pizza but not so much that the toppings slide off when taking a bite. The pepperoni were large and in charge but not over powering. The roasted meatballs were soft and full of garlicky goodness while the Italian sausage was meaty. Each bite of this pizza had a little bit of all three meats and each meat played well with each other. Nothing over powered the other making each bite the perfect bite. This was by far one the best pizzas I have had in a long time.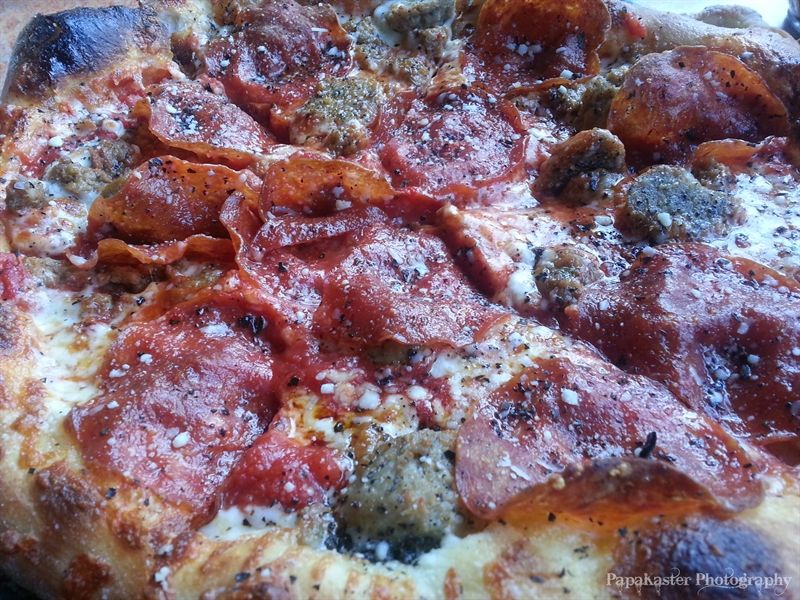 The family was happy for the most part, we all walked out of Spin! with full bellies but were not stuffed. I would come back to Spin! and recommend anyone give them a try because I know you will not be disappointed. My only word of advice would be to watch the cost of what you are ordering because it can become expensive real quick. I never have a problem spending money on good food, which this was, but if your on a budget you may want to consider another place. Overall the experience at Spin! was awesome and the quality of the food was worth the price.