The Hot Dog Shoppe
43810 Butterfield Stage Rd.
I went to spend the day with my friend Jeff before his band Soto St. played that night, and we needed to eat some lunch. Jeff suggested The Hot Dog Shoppe, and well I am always down for a good wiener, so I said "Sure let's do it". Walking in, The Hot Dog Shoppe has a bar and couple long tables, all in all, it has a very casual feel to it. We took a few minutes to decide on what we wanted but Jeff went with the Mac and Cheese dog, which is what is sounds like, a hot dog topped with mac and cheese. I got a Ruben dog minus the kraut, again exactly what it sounds like. We also got an order of gravy fries and two drinks. This whole meal was $25 bucks.

Jeff's hot dog was covered in gooey mac and cheese and topped with some shredded cheese. This looked like a simplistic yet tasty dog. It really reminded me of my childhood eating mac and cheese with cut up pieces of hot dog in it. Jeff said it is one of his favorite dogs on the menu.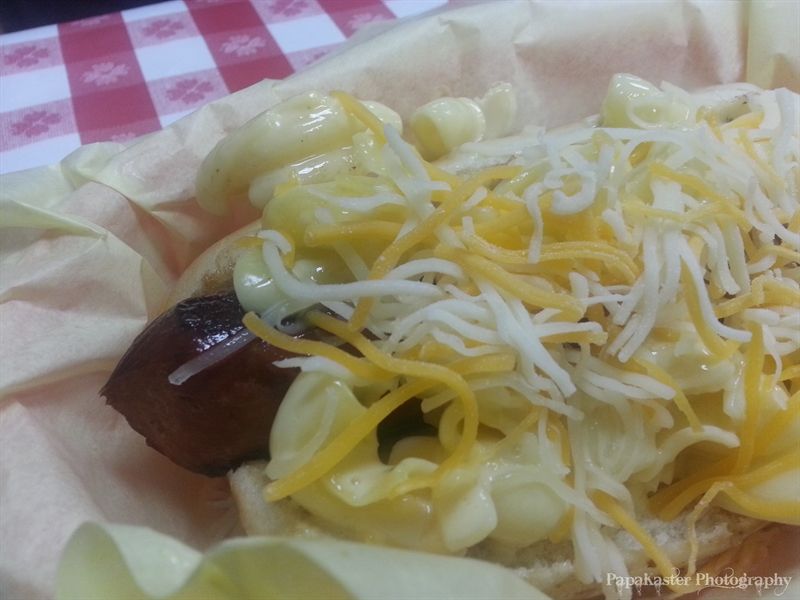 There were so many good choices to pick from but I ended up with the Ruben dog. The dog was meaty and juicy, the pastrami was thick and a bit too crispy for my liking. The 1000 island dressing was plentiful while the Swiss cheese and pickles were lacking. The combination of flavors did make me think of a classic Ruben sandwich. But for me personally, I could have used more cheese and another pickle. Overall it was a well made hot dog that I think anyone would enjoy.
The gravy fries were also pretty good but it is really hard to find them better then The Hat. The gravy on these fries was thin but still full of beefy flavor. The fries were crisp on the outside and soft on the inside. The fries stood up well to the gravy and even at the bottom of the basket the fries were still crunchy. A very good version of this classic that I personally grew up with.
I did savor my meal at The Hot Dog Shoppe and would definitely go back if I am ever in the neighborhood again. The prices were fair, the service was nice and the food was good. That to me equals a winner winner hot dog dinner.