Andrew's Ice Cream and Dessert
I heard about Andrew's Ice Cream and Dessert from a fellow foodie and former blogger Dan. He made mention of this place, the nice owner and the quality ice cream, so I figured I would take the family there after dinner to see for myself. Immediately upon walking in we were welcomed with a hearty hello and a warm smile from the owner. He told us about his ice cream and how he made the majority of the ice cream in store. Happily to my wife's suprise, he also stocked a few classics from Thrifty's. He gladly offered as many samples as we wanted until we all made our final choices. My daughter being the sugar fiend that she is went right for the Thrifty's cotton candy and small bit of banana cabana (small), my son went with banana cabana with mint and chip (medium), my wife ordered house made Butter Finger and Thrifty's chocolate malted crunch (small), I went with banana cabana and eggnog (medium). The prices for Thrifty's ice cream are $2 for a small, $3 for a medium and $4 for a large, the home made ice creams are a dollar more for each size. All together this treat was $13.
My daughter devoured her ice cream and ended up with a blue and pink haze all around her mouth by the end of her cup. My son enjoyed his ice cream not saying much. They both seemed content with their choices, not one complaint was muttered from either. My wife loves Thrifty's Chocolate Malted Crunch so I know that was a hit for her and she said the Butter Finger ice cream was loaded with large pieces of the candy bar.
As for me I went with all home made ice cream so I could really try something different. The eggnog ice cream was rich, silky smooth and full of the traditional eggnog flavors. A frozen version of the classic holiday drink. The true stand out to me was the banana cabana. The ice cream had an abundance of banana flavor with a tremendous amount of chocolate chips and thick ribbons of fudge throughout. Each bite of ice cream combined the flavors perfectly and was reminiscent of a frozen banana on a stick. This is now one of my favorite ice cream flavors and I will have to return to Andrew's Ice Cream to get more banana cabana.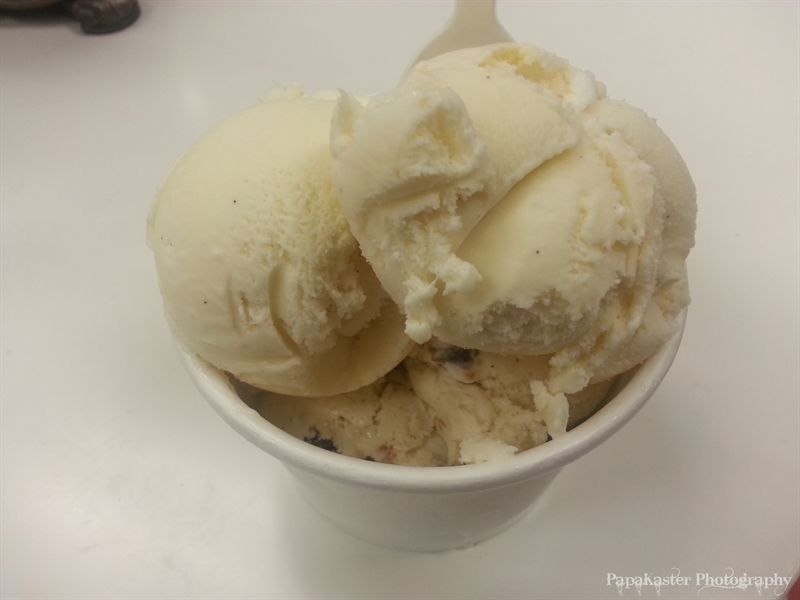 Andrew's Ice Cream and Dessert has only been open for a few months now so I'm sure he is still trying to gain a good customer base but if he continues with these quality ice creams and super friendly service I do not see this as being a problem. It's rare these days to see these kind of family run ice cream shops and it is a great addition to the community. If you are anywhere near Tustin and Katella I highly recommend stopping by Andrew's Ice Cream and Dessert.