Gaüfreé
I was invited to a tasting event at Gaufree (Go-free) and since I enjoy waffle sandwiches so much it was a no brainier. The menu for the tasting event was limited to a few selection and I was able to pick one sandwich, one side, one dessert and a drink. I went with the Philly cheese steak, fries, black cherry soda and peanut butter pie. Since this was a tasting event there was no cost to me but if you would have ordered this the cost would have been around $20.
I did want to mention the soda at Gaufree because it uses natural ingredients and no high fructose corn syrup. Which I think it pretty is cool. I much prefer these kinds of sodas when I do choose to drink soda. Plus the black cherry soda was excellent, nice cherry flavor without being overly sweet.
As my food was delivered, Paul, the owner of Gaufree, stopped by my table and made sure to mention the garlic aioli that came with the fries. Being a lover of all things garlic that was the first thing I went for when it came to dipping my fries. The fries where crisp on the outside and soft on the inside. The seasoning on the fries was perfect, just the right amount of salt to bring out all the flavor. But wait a minute, talk about a show stopper, the garlic aioli was just awesome. This dipping sauce would make a flip-flop taste good. The pungent taste of garlic was a welcome kick to the taste buds that sticks with you and will leave you craving more. Simply outstanding.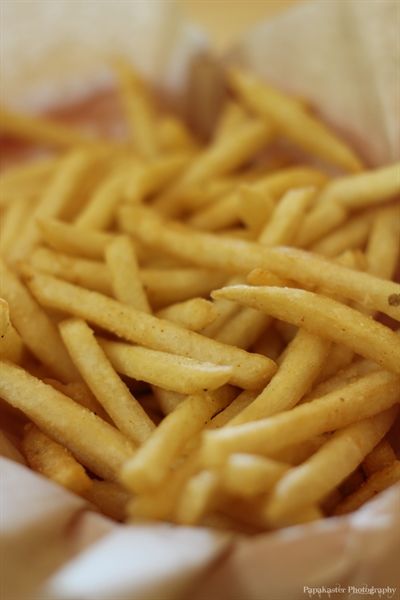 I was fortunate enough to be sharing a table with a fellow food blogger we decided to share our sandwiches so we could each try more then more. I started with my Philly cheese steak sandwich, the waffle was loaded with grilled grass fed beef slices, sauteed peppers and onions which was all covered in melted cheese. This waffle had all the classic flavors of a Philly cheese steak, the beef was tender and moist, the peppers and onions added a bit sweetness and the cheese added a nice saltiness. The waffle it self was crunchy, fluffy and slightly sweet. This was a great tasting sandwich.
Next up I tried the breakfast waffle which consisted of farm fresh organic scrambled eggs, apple wood smoked bacon and a garden herb pesto. Again the waffle was cooked just right, crispy and soft. The eggs were scrambled so they were light and airy. The bacon was thick which added a nice texture to the sandwich and a hint of smoke. The herb pesto brought a nice brightness to the entire flavor of this sammy. A breakfast sandwich that I could wake up to every morning.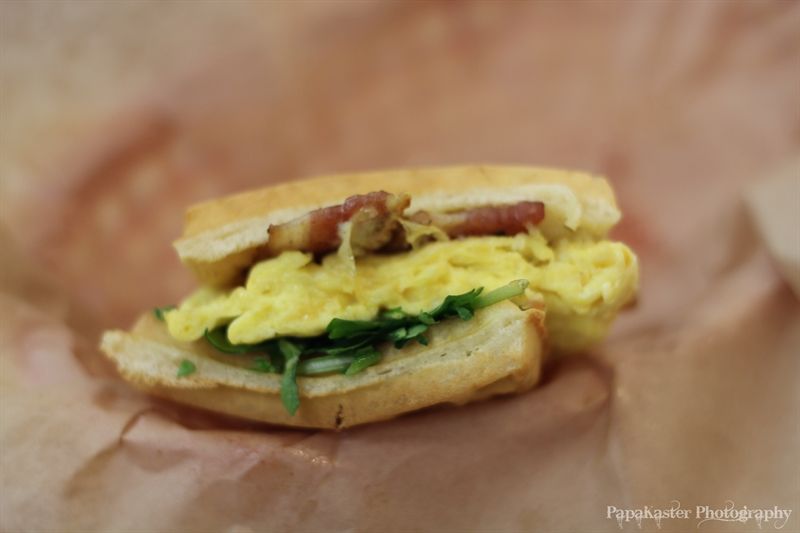 It must have been our lucky day because as we were sitting there enjoying our sandwiches we were offered a pulled pork sandwich. As full as I was there was no hesitation in answering yes. This pulled pork was slow cooked until pull a part tender and served with house made BBQ sauce. A bit of coleslaw also comes on the sandwich with caramelized onions and a spread of horseradish yogurt. The pork was tender and juicy, the BBQ sauce was smokey and sweet while the horseradish yogurt added some tang and spice. A very tasty version of pulled pork.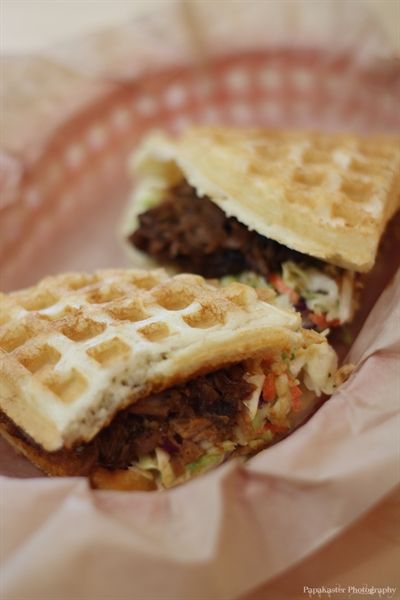 Finally it was time to try the dessert waffle. This waffle is on the menu as a peanut butter pie waffle with sea salt caramel. However there are a few more ingredients included. The waffle had freshly sliced bananas, peanut butter, bits of chocolate cookie pieces, nuts and whipped cream the drizzled with caramel. This waffle brought sweet to a new level. You had better have a sweet tooth for this waffle. It was amazingly good but very rich. A cold glass of milk would have paired very nicely with this and rounded out this treat. I think this dessert is best shared with multiple people because too much can be overpowering but the flavors were spot on.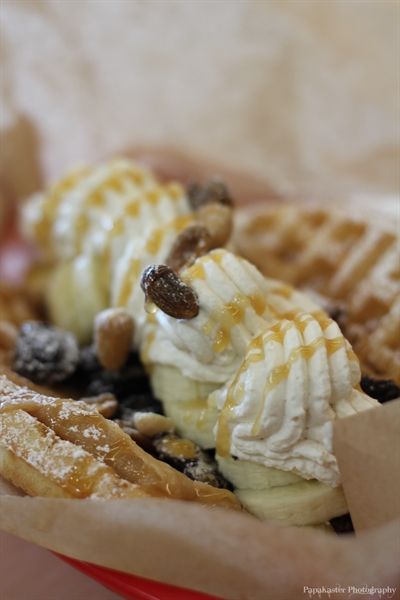 My overall impression of Gaufree was very good. I was blown away by the quality of the ingredients and their attention to detail. I was watching them cook and after cooking the waffles they had a person trimming the edges so the waffle were nice and neat. All the ingredients are locally sourced, if possible, no use of GMO's and all natural where available. This combination brings the customers of Gaufree a quick dining experience that tastes like it came from a gourmet restaurant. I know I will be back and I suggest, no I urge, you to go and try Gaufree for yourself.