Oink and Moo
Burgers and BBQ
My wife has been insisting that we go to this place call Oink and Moo Burgers and BBQ down in Fallbrook ever since she heard of it. The family was on vacation in San Diego so this was a must stop while down in the area. The Oink and Moo is a small place located between what appears to be residential homes and can be missed so make sure to keep your eyes open. The family was seated quick and we quickly found what we all wanted to eat for dinner. We started with an appetizer, my daughter got the kids cheese burger, my son got the Hillbilly burger, my wife got the 2013 Taste of Fallbrook winning menu item which was a very tasty pork chop,and I got a three meat plate. With drinks and dessert this meal was about $85.
The appetizer we started with was mac and cheese fritters wrapped in bacon and then deep fried. These little bites of goodness were served with a marinara sauce which went perfectly with the fritters. The bacon on the outside was crisp while the mac and cheese was soft and cheesy. I could have easily eaten a whole basket of these bad boys.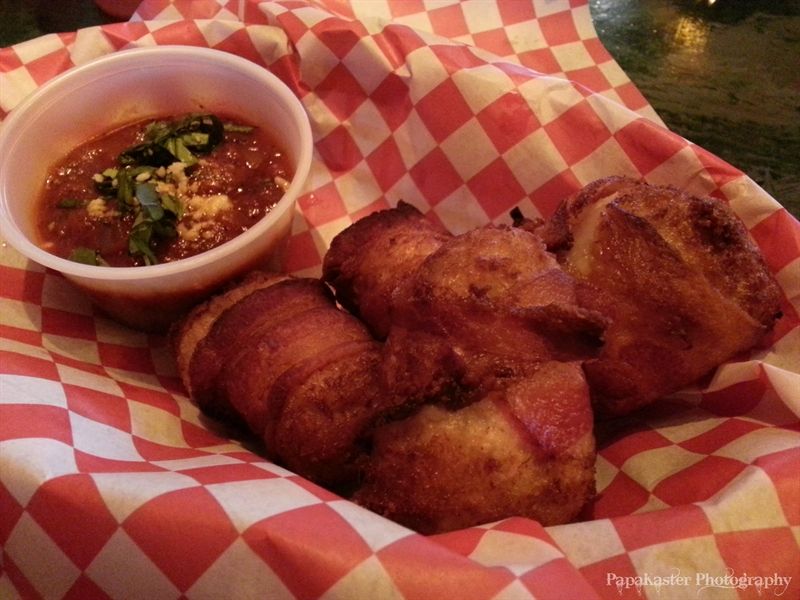 The child's cheese burger was perfect for my daughter, she had no problems enjoying this burger. While it was enough to fill my daughter up she was asking for some french fries which did not come with the burger. But my daughter quickly forgot about the lack of fries while she was actually enjoying the burger it self. My daughter had no criticisms of the burger.
My son is a growing boy and so is his appetite which means his choice for meals are becoming increasing larger. The Hillbilly burger my son ordered consisted of a 1/3 pound burger which was then topped with a hot dog, tater tots, caramelized onions and American cheese. My son started devouring this burger without hesitation and asked me if I wanted a bite. No way I was refusing this monstrosity, so I grabbed hold and went it in for a bite. The burger it self was cooked to a perfect medium which kept it moist, the hot dog was split down the middle yet retained some snap. The tater tots added a nice bit of crunch to the bite and the caramelized onions brought some sweetness the burger. What an awesome combination of flavors. It was like having a backyard BBQ on a single bun. Definitely a good pick by my son.
What my wife ordered was on the menu as the 2013 Taste of Fallbrook winner which was a 12 ounce center cut, bone in, beer brined pork chop. The chop was served on top of a blueberry BBQ sauce and then covered on caramelized onions. I was able to get a few bites of this chop which it self was juicy and full of porky flavor. The blueberry BBQ sauce was not overly sweet and brought a nice fruity flavor to the chop. The onion added a slight bit of texture to the dish but some kind of crunch would have been nice. The few bites of pork I had were very good and something I myself would easily order. My wife had nothing bad to say to about her plate of food and was very satisfied with her choice.
My choice of meats for the pick three plate was beef ribs, BBQ chicken and pulled pork. I got two gigantic beef ribs on my plate and was able to share one with my son. The beef rib it self was tender but still had some pull to it, meaning it just did not fall off the bone. Which was fine with me because while eating this rib I felt like Fred Flintstone gnawing on one of those brontosaurs ribs. The rib was smokey and the BBQ sauce was thick. I very much enjoyed the rib. The chicken was up next for me. This quarter chicken remained moist and was loaded with flavor. I think there may have been a rub on the chicken which was herby and scrumptious. Now for me the pulled pork was lacking something, I honestly cannot put my finger on what it was but something was missing. The pork was cooked til tender and the pork was full of good smokey flavor but I just felt a little under whelmed by the pulled pork. The biscuit was drenched it what I think was honey and maple syrup. The biscuit was flaky and pulled apart almost like those biscuits from a can, all I can say is yum.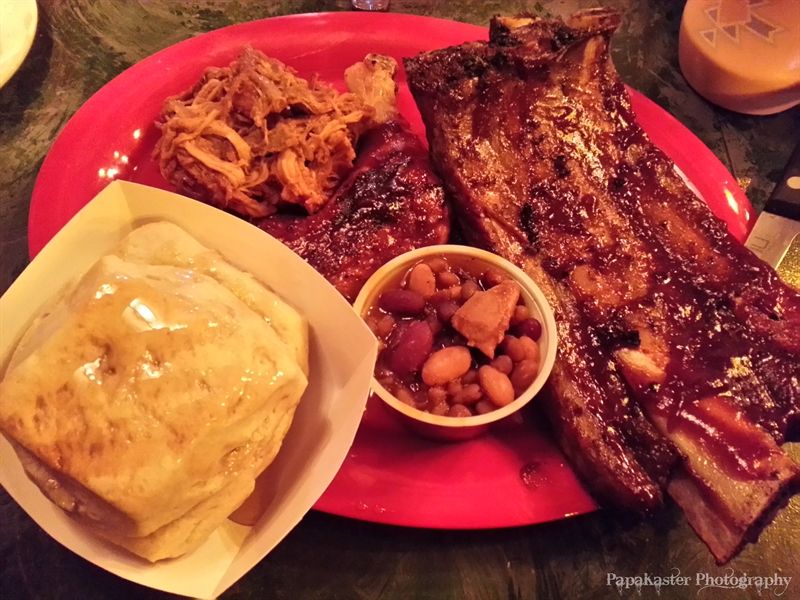 We decided to finish the meal with a smoked bananas fosters which was severed over two scoops of vanilla ice cream and came with macerated berries. The smoked caramel flavor really came through and cut through the richness of the ice cream. The berries added a nice tartness to the dessert that really made this dish complete. This was the final nail in the coffin for me and I was ready to tap out.
The Oink and Moo definitely delivered fantastic BBQ and well made burgers. I am glad my wife found this place and took me there. I would highly recommend anyone near Fallbrook check this joint out. I can say for sure that the Oink and Moo will be on my list of must eat places next time I am in Fallbrook.