The Oinkster
323-255-6465

This is the second trip the family has taken to a Triple D, AKA Diners, Drive-ins and Dives, restaurant. This time we went to The Oinkster in Eagle Rock, CA. I cannot count how many times I have seen The Oinkster episode on Triple D so I was excited to finally get to try the food. The menu is not large but there is plenty to choose from and they even have vegetarian options. Only bummer was no kids menu so my daughter had to order a full sized cheeseburger with ketchup only. My son ordered the BBQ pulled pork sandwich, my wife ordered the classic burger with bacon and I ordered The Oinkster pastrami sandwich. Fries come separately so we got one order of regular fries and one order of chili cheese fries. With drinks the meal was about $51.
My daughter chowed down her burger and she really seemed to like it. The bun was toasted slightly, the burger was charred to perfection and the cheese was melted and gooey. There was a bit too much ketchup on the burger but not enough to hinder my daughter. I did have to help her finish the burger because it was a bit too large for her. A very good burger.
Since my son and I both got sammies we decided to split ours so each could try the other. The BBQ pulled pork sandwich was simple but delicious. The sandwich consisted of BBQ pulled pork that is brined in soy and honey then slowly roasted and smoked. The sandwich has red cabbage slaw, caramelized onions and Carolina style BBQ sauce. That is all contained within a soft deli style roll. The pork it self was tender and moist. The pork had a nice hint of smoke and the BBQ sauce added a vinegary kick to each bite. The red cabbage slaw brought some texture to the sammy and the caramelized onions added a sweet, buttery richness to the party. Damn this was a killer sandwich and I wanted more when I was done, but I still had my half sandwich in front of me.
My wife and I had not eaten breakfast so we were pretty hungry that day. My wife finished her burger before I had a chance to get a bite. But my wife did say that she was pleased with the burger. The classic 1/3 pound burger is Nebraska Angus beef with thousand island dressing, dill pickles, onion, tomatoes and lettuce. You can add cheese for an additional cost. My wife did add cheese and also added bacon. The burger looked awesome and I was a bit bummed I did not get a bite.
Personally I am always down for a pastrami sandwich, but Guy raved about The Oinkster pastrami so that was the clear choice for me. The Oinkster pastrami is house cured pastrami with red cabbage coleslaw, caramelized onions and Gruyere cheese tucked in a deli style roll. The pastrami had a nice peppery crust on the edges while remaining delicate and luscious. The red cabbage slaw added structure to the sandwich and a slight bit of acidity. The caramelized onion added a sweet taste to each bite and the cheese brought some salinity. When I first picked up my half it took me a few turns of the half to figure out where to first attack this monster. I had to perform the Triple D hunch to get at it. I didn't care much about how I must have looked stuffing my face because the sandwich was that awesome.
The chili cheese fries are made with The Oinster's homemade chili then blanketed in cheese and green onions. The fries where crisp on the outside and fluffy on the inside. The chili was good, not a lot of beans but still full of flavor. The cheese was plentiful so it made each forkful string away from the container. While the green onion added a good amount of freshness. A very very well made version of this classic side dish.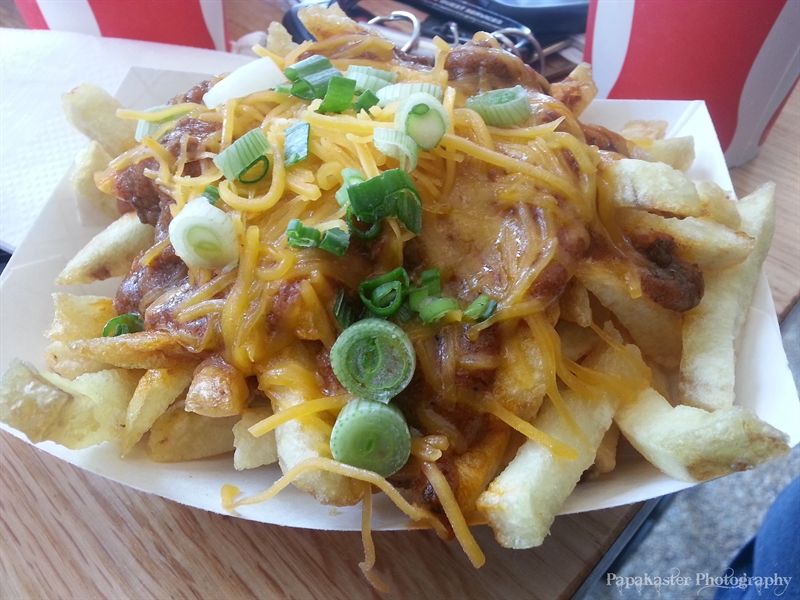 The family's first visit to a Triple D location was a flop, however, the The Oinkster was a grand slam, home run. Every member of the family was extremely satisfied with our meal and we all talked about how we'd love return to The Oinkster next time we are in the neighborhood. I would easily say that you shouldn't hesitate any longer and get yourself to The Oinkster as soon as you can. Just remember that this place can get busy quickly so my tip would be to go a little earlier or later to miss the lunch and dinner rushes.