Belgian Waffle Works
28200 Highway 189, Bldg. E150
My search for a Monte Cristo as good or better then the Disneyland version continues. The family was in Lake Arrowhead visiting with some friends. After a morning on the boat and lake we were all hungry and ready to eat lunch. Belgian Waffle House was our destination, being a lover of waffles that was perfectly fine with me. The restaurant it self was busy so reservations are a good idea. Upon getting there and looking over the menu the selection of waffles was some what limited, in my opinion. Most of the waffles had some form of ice cream on them and that was not for me. Until I saw the Brussels Belgian which is prepared Monte-Cristo style, stuffed with ham, Swiss cheese and turkey baked to perfection and dusted with powdered sugar and served with strawberry preserves and cream cheese. A full portion sandwich will set up back $11.75.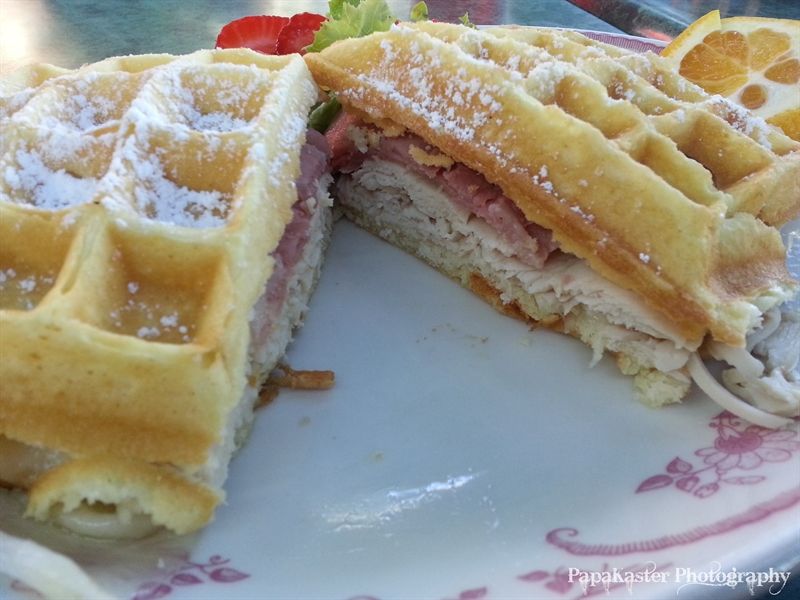 The sandwich it self was a house made waffle that was then cut in half and filled with the meats and cheese. It also comes with maple syrup along with the other sides. I preferred to use the maple syrup with my meal. Like most places the description of the dish sounds better then the actual plated dish. Some slices of turkey and a few cuts of ham and the Swiss cheese was barely present. The waffle it self was crunchy on the outside but dry on the inside. The turkey was also dry but the ham added a nice salinity to each bite to give you that salty, sweet combination. The sandwich was okay, there can definitely be improvement made. I think part of the problem is my expectations are so high it will be hard to find a Monte Cristo the meets or exceeds them.
Belgian Waffle Works was not a bad place to eat at, the rest of the family and our friends enjoyed thier meals. Everyone was clearly stuffed and satisfied with what they ordered. My advise would be, if you have had a Disneyland Monte Cristo then stay away from this version, you will be disappointed. However if you are a Monte Cristo noob and this is your first venture into the sandwich then I would recommend it as is it a great way to be introduced to this concoction.