Broadway by Amar Santana
As I grow older my taste buds have grown with me. I have noticed things that I disliked as a child are now some of my favorite foods. With this notion comes the trial of my "fancy" foods. When I was a child the fanciest food we had was from a local Mexican food restaurant. Now that I am older and have watched more Food Network than I would like to admit, I would like to think my tastes have evolved. This theory was put to the test a few weeks ago when my foodie friend asked me a simple question, "When was the last time you had a fancy meal?". I really had to think and my answer surprised both of us, "When I was in high school.". That was that, the wheel was set in motion and we ended up at Broadway by Amar Santana in Laguna Beach. When first walking in I felt a bit out of place but once the food started coming to the table there was nothing that could have bothered me.
My foodie friend and I decided to do the Monday Prix Fixe meal. This included a five course meal, we also decided to get an appetizer and I got an adult beverage. My drink of choice as of late has been the Moscow Mule. A simple mix of vodka, ginger beer and a twist of lime. The Moscow Mule at Broadway is made using house made ginger beer, which really adds a nice punch of ginger to the drink. I really enjoyed the fact that it was also served in the appropriate copper mug. This drink was strong, full of flavor and very refreshing.
Next up was our appetizer of roasted beef bone marrow. I have seen this dish many times on TV and on other menus but this was my first time trying it. The marrow was served with oxtail mushroom marmalade, garlic confit, sea salt and grilled sourdough bread. I scooped a bit of beef marrow out of the bone and slathered the fatty goodness on the bread. Then covered it in the marmalade, a garlic clove and a pinch of salt. The first bite I took was an explosion of flavor in my mouth. The rich beef flavor from the marrow and the marmalade mingled together perfectly. The garlic confit brought sweetness without being pungent. While the sea salt cut through all the richness and brightened all other flavors.
Our first course of the Prix Fixe was octopus carpaccio with piquillo emulision, caper berries, castelvetrano olives and smoke paprika. To be honest I almost chickened out and didn't try this dish. But wanting to expand my pallet I went for it and I actually liked it. The octopus was was tender and not salty at all. There was a nice hint of fresh ocean water with the thinly sliced tentacles. The olives brought the salinity while the smoked paprika added a slight amount of smokey heat. The whole time I'm think to myself "Look at me I'm eating seafood" which is something I do not do often and I was pleased to do so.
The next course was pheasant tortellini with yam puree, huckelberry, macadamia nuts and frise. These tiny packets of chopped meat were moist and not gamey at all. The pheasant mixed nicely with the yam and huckelberry smeers. The yams added a earthy, root vegetable flavor and the puree was velvety on the tongue. The huckelberries were tart while retaining a hint of sweetness. The mixtures of flavors really brought the pheasant to life. The macadamia nuts added the needed texture that rounded this whole dish off.
So my friend and I decided to each get one of the main courses so we could get a bit of each. I started with the seared duck breast that came with sauteed spinach, celery root, pickled shallots and duck jus. This was only the second time I had ever had duck breast and the first time was not a pleasant experience so again I was kind of gun shy. After trying this duck breast I cannot wait to try it again. This duck breast fat was rendered to allow the skin to crisp perfectly. The meat was moist and tender. The pickled shallots were a sour note to break through the richness of the duck breast and the sauteed spinach was buttery. The best part of this dish for me was getting the best bite by pulling the breast meat through the jus and all other accompaniments on the plate.
Next up was the grilled petite filet with pomme aligot, garlic chips, alfalfa sprouts and red wine. I personally didn't know what pomme aligot was until I tasted them. They are cheesy mashed potatoes. Damn these were silky smooth while being full of sharp cheese flavor. The garlic chips added some crunch without being bitter. The red wine and sprouts were a nice addition to the dish. The wine added fruity notes to each bite while the sprouts were fresh and bright. The filet was grilled to medium rare which made it delicate and full of juices. By far one of the best pieces of cooked beef I have had in a restaurant setting.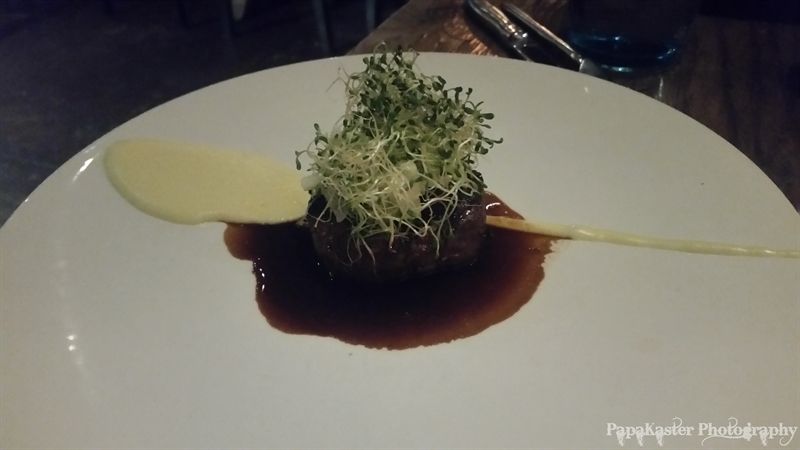 The meal finished with chef's choice of dessert. On this night we were treated to a vanilla milk ice cream on top of a cranberry gel with blood orange puree and blood orange chip. The vanilla milk ice cream was icy cold with a resemblance to a pana cotta. The cranberries tartness and blood orange sweetness paired nicely with each other. This dessert was not overly sweet so it finished the meal off perfectly.
I left Broadway by Amar Santana well fed and very pleased. My most recent "fancy" meal was a stunning success that I cannot wait to repeat this experience. The expanding pallet I am trying to have is leading me to food experiences I would never have thought of having when I was much younger. These fancy meals are truly something special and I will continue to try and do this kind of meal every few months. I am also excited to try Vaca which is the newest resturuant from Amar Santana coming soon to Costa Mesa.
Broadway by Amar Santana on Yelp
Broadway by Amar Santana
Vaca Restaurant
Make sure to follow
@papakaster
on Instagram in order to see pictures before, and ones that might not make it to the review.