Dog Haus - Santa Ana
So I have been in a real writing funk when it comes to this blog. I just have not been feeling it lately and really not wanting to do it very much. So what got me out of this funk? A little encouragement from a reader, who also hooked me up with a free meal coupon and my wife constantly asking if we could try Dog Haus in Santa Ana. Well we finally made it and let me just start by saying, damn why the hell did I wait so long!?
The menu is not large but there are enough choices for someone to find something. Not only do they have hot dogs but they also have sausages and burgers to choose from. My daughter got the kids meal which allowed her to pick two sliders and it came with fries and a drink. My wife ordered the Ava Maria, added bacon and she also got a combo with fries. Lastly I got the Scott Baioli but upgraded my dog to a pastrami snap dog. I also got a combo, but got chili cheese tots instead of just fries. The meal would have been around 30 bucks but because of the one free meal coupon it cost me around 18.
The kids meal has the option to pick two different sliders but my daughter picked two burger sliders. She got her burgers with just cheese, ketchup and a bit of mayo. My daughter loved the fact that the sliders were served on Hawaiian sweet rolls and that they were square. She gobbled down her burgers and continued to munch down her fries. She was a happy little monkey after she finished her entire meal.
My wife was a bit indecisive at first, then decided to get the Ava Maria which is a black angus beef patty smothered with sauteed mushrooms, white american cheese, garlic aioli and caramelized onions. She added bacon for an additional charge. The burgers are also severed on Hawaiian sweet rolls but the large burgers come on four rolls. My wife sectioned the burger according to the four rolls which allowed me to snag a bite. The burger was moist and full of beefy flavor. The bacon was crisp and the onions were sweet. The garlic was present but not over powering. A very well made burger that any burger enthusiast would enjoy. The fries were a bit under cooked for my liking but the season on fries was good.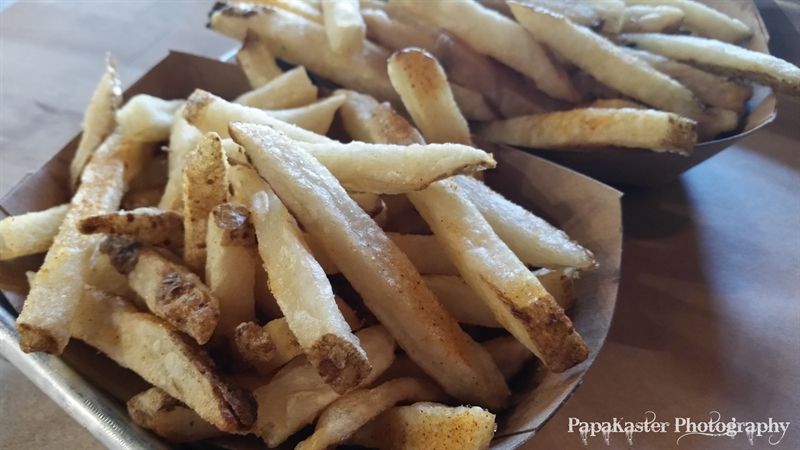 I was torn between the different choices, but I knew I wanted to try a dog or a sausage. Then I saw the Scott Baioli which is a dog with smoked bacon, white american cheese, garlic aioli and caramelized onions. I also upgraded my dog from an all beef dog to a pastrami snap dog. The pastrami snap dog is easily my newest food obsession. This had the spices and flavor of killer pastrami but it was in hot dog form. The peppery spice from the dog went perfectly with the sweet onions and kick from the garlic aioli. Surprisingly the sweetness from the Hawaiian rolls was not lost. However I think the bacon might have been missing from my dog because I got no crunch or smokiness while eating the dog. That did not ruin the experience for me but it would have been a nice texture contrast and bacon would have added a nice bit of salinity to each bite to give a sweet, and salty combination. My chili cheese tots were excellent. The tots were crispy on the outside and fluffy on this inside. The chili had a hint of heat that got you in the back of the throat. The cheese was gooey and stringy. These chili cheese tots are something I could easily order again.
The service at Dog Haus Santa Ana was very helpful and willing to answer any questions we had. They even pointed us in the right direction for trying to find these pastrami snap dogs that have taken over my food craze. The prices at Dog Haus were fair for the quality and quantity of food you receive. There are a few different locations of Dog Haus so I would recommend checking out the web site, finding the closest location and getting over there to try a dog or burger. On a side note I also love their tag line, The Absolute Wurst.