Pizza e Vino
31441 Santa Margarita Parkway
Rancho Santa Margarita, CA 92688
714-713-1500
My wife and I were invited to visit Pizza e Vino by Niyaz of
Knife and Spork
which is a food PR company that reps Pizza e Vino. My wife and I were excited to visit Pizza e Vino because of all the good things we had heard from Niyaz and the excellent reviews Pizza e Vino has online. We arrived first thing when they opened and we were greeted by a very friendly waitress. She seated us, took our drink order then gave us the down low on the daily specials. Pizza e Vino has a social media special which includes two brunch sized pizzas from a selection of five, a caeser salad and a dessert burrata. This can all be had for thirty dollars and can only be ordered if specifically mentioned. With that knowledge Niyaz and I both ordered the brunch pizza from the selection of five we could choose from. My wife ordered the parma ham with house roasted mushrooms. We also ordered a starter of wood fired garlic bread. As for dessert we went a bit overboard but it was worth every calorie, not only did we get the dessert that came with the social media special but we also ordered a slice of tiramisu and a connoli. With drinks this entire meal would have cost around eighty dollars but because Niyaz invited us there, we were comped the social media special which saved us that thirty bucks.
The meal stared off with a classic caeser salad and honestly I am not a huge fan of caeser salad but let me tell you this was by far the best caeser I have had to date. The lettuce was fresh and crisp. The dressing was creamy with the perfect amount of seasoning. The croutons were crunchy which added a great contrast in textures and the freshly grated parmesan cheese was salty in the perfect way. My taste buds were blown away and this was just the start of meal, my exceptions grew for the rest of our meal.
Next came the garlic bread which is wood fired in the brick pizza oven. This made-to-order flat bread is covered in chopped garlic, olio and pecorino romano. Both Niyaz and my wife looked at me like I was crazy when I mentioned that I tasted a hint of toasted marshmallow when I first took a bite of this garlic bread. It must have been from the little bits of charred dough that are created from being cooked in an 850 degree pizza oven. After that hint of sweet went away you are treated to a garlic and cheese bonanza in your mouth. The soft and toothsome dough gives way to the fresh garlic and moister from the olio. This is a must order next time I visit Pizza e Vino, and there will be a next time!
Going to hand the keyboard over to wife so she can explain her take on the pizza she had but let me say this, I hate mushrooms with a passion but I could have easily eaten this pie by myself.

Howdy all! I'm the wife, AKA MamaKaster. I don't normally get into the writing side of Papa's blog, I'm more on the eating end, but let me tell you, I'm totally down to write about this place. When we drove out there and I saw the strip mall the place was in I was like.. " Oh Lord.. this is gunna be one of those places. " I was pleasantly surprised however. We got there right when it opened so we were the first ones in. The owner was rolling the fire up in the oven getting it all hot and bothered and Niyaz told him we wanted the Social Media special. I looked at the menu and I wanted the brunch pizza but we usually like to order something different and share so we can get a taste of what there is on the menu. I ordered what looked best to me. I'm kind of picky and this looked like something I could sink my teeth into. The crust was crispy on the outside with that fire roasted char and soo chewy on the inside I could eat only crust from there forever. There was a good mix of the tomato sauce and the mushrooms, which they saute in that brick oven before hand mind you, sooo good and the meat was so filled with flavor. I'll tell you what, I don't usually like a Neapolitan style pizza, but this just melted in my mouth. The combo of veggies, meat and cheese was just that perfect bite and covered with enough of all of those ingredients to make every bite just that. I'm telling you don't even wait until you are in the neighborhood take the drive down there and eat here!

Now back to your regularly scheduled writer.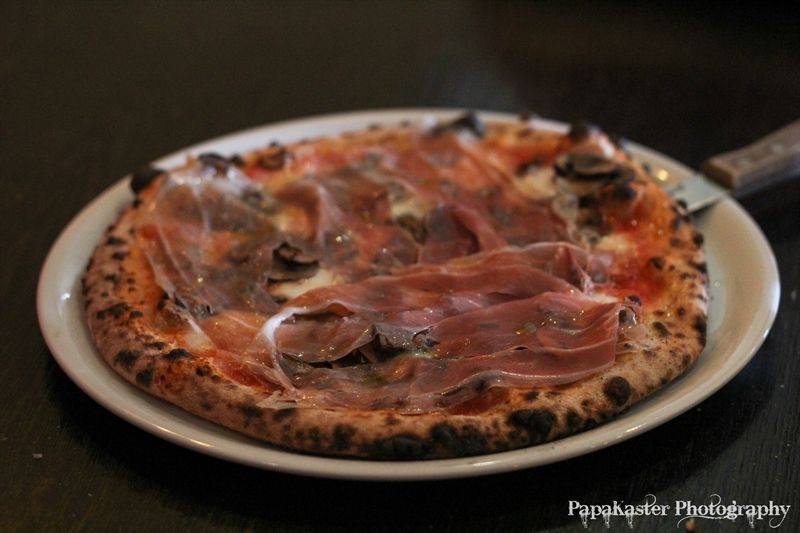 My brunch pizza was covered with guanciale, thinly sliced potato, fresh mozzarella and an egg placed in the center before being cooked. I love all things breakfast, so taking pizza dough, placing a heaping helping of breakfast ingredients on top of it and then cooking it all until piping hot, what could go wrong? Nothing went wrong with this pizza the guancial was crispy like bacon but sliced paper thin, the potatoes were present and added to the whole breakfast feel. The dough was charred and crisp on the edges while the center was thin and chewy. The egg yolk added a nice richness to each bite and really complemented all the toppings. Breakfast is by far my favorite meal of the day and this pizza was my first experience with breakfast toppings. Without a doubt this is now my favorite way to have bacon and eggs.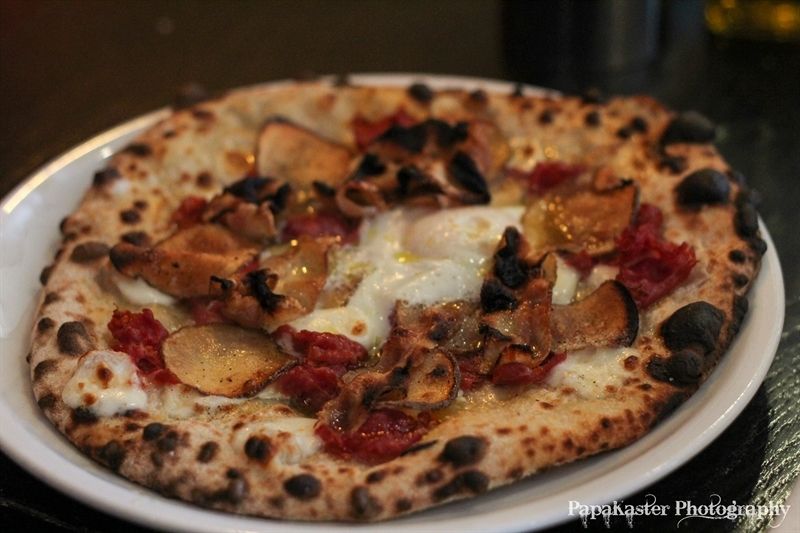 The media special comes with a dessert burrata which is fresh burrata cheese, drizzled honey, and candied walnuts. This was the perfect combination of salty, and sweet with soft and crunchy. The cheese was soft and salty while the honey was sweet and the candied walnuts added that crunch. This was a great way to end the meal but oh no we didn't stop there.
While eating the burrata dessert it was mentioned that Pizza e Vino had the best tiramisu. I love all kinds of desserts but tiramisu is not my favorite because most have way too much coffee in them. Let me tell you this is by far the best tiramisu I have ever had. The tiramisu is so well balanced that not one flavor over powers the other but all flavors are present on your pallet. When I took my first bite the chocolate got me first then the subtle hint of coffee on the background. The soft cake like layers of this dessert were soaked with liquid that was reminiscent of tres leche. I cannot say enough good things about this slice of dessert heaven.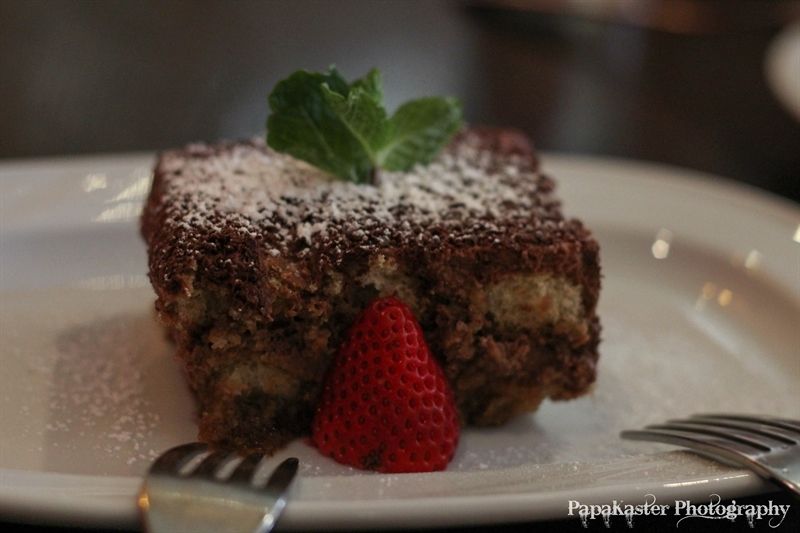 As if we needed more food, I made a comment about cannoli and shortly after that we had one on our table. We got the cannoli that allowed us to try both versions they offer. The chocolate side was smooth with a hint of chocolate and the pistachio nuts were crunchy. The other side was just sweetened and topped with chocolate chips. Nothing bad to say about that side. The cannoli shell was crispy and had some cinnamon and nutmeg flavors. This too was a well executed version of a classic dessert.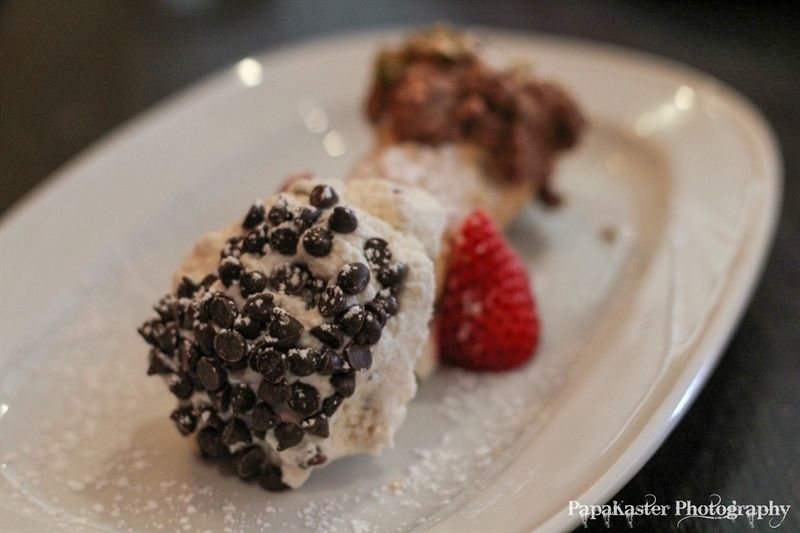 Pizza e Vino went past any expectations I had walking into the establishment. The waitress was super helpful and very courteous. The atmosphere was fun and inviting. Being able to watch your food being made from your table was cool. The food was amazing! I wouldn't be surprised if other patrons were looking at us strangely from all the moans of deliciousness coming from our table. I can easily say this was by far one of the best restaurant experiences I have had in a long while. Do not hesitate to try Pizza e Vino because you will not be disappointed.