Otis Dogs
Move over Taco Tuesday and make room for Wiener Wednesday at Otis Dogs in Brea. My best bud suggested we try this place out after he had gone there and found himself pretty impressed. I am always down for a good wiener so it was a no brainer to go check Otis Dogs out.
Otis Dogs is just south of Imperial Highway on Brea Blvd, if you pass Guitar Center then you have gone too far. Why the specific directions? Because I want to ensure you find this place and enjoy one of their wieners. Plus on Wednesdays they have a Wiener Wednesday which puts one of their wieners on special. My friend and I did show up on Wednesday and the chili cheese was the deal of the day. I did want to try more then one hot dog however and my picks where the chili cheese dog and a pastrami dog. You can get your dogs on Hawaiian buns but I stuck with the old school style buns. The two dogs, a drink and chips set me back a bit less then $13.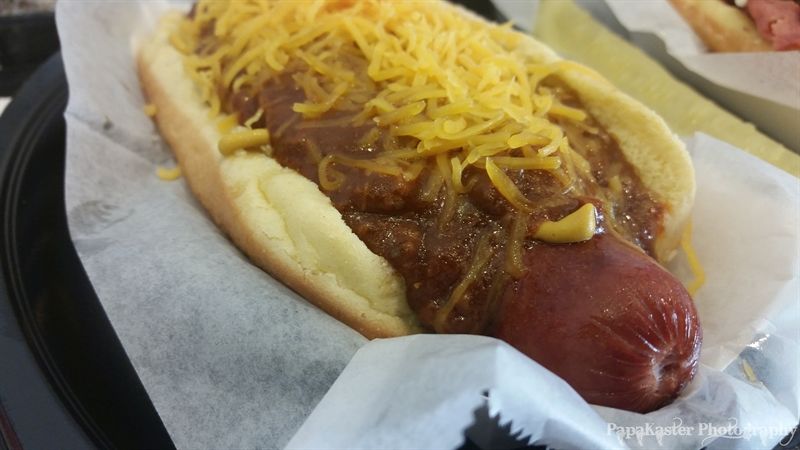 I went after the chili cheese dog first. Good thing they provided a plastic fork and knife because there was no way I was going to be able to pick this monstrous dog up. The wiener was all beef, plump, juicy and full of that classic American hot dog flavor. The chili was all meat and sans any type of beans. This is a classic dog that was done very well. The chili was a tad bit too sweet for my liking but that could have been easily fixed. I was pretty full after I was done with this dog but still had one more wiener to chow down.
Same dog in this bun except this one was loaded with pastrami then squirted with mayo and mustard. I really liked the pastrami on this dog. It was tender but sliced a little too thin, full of peppery spice and little bit of fat that all good pastrami needs. The mayo added a bit of creaminess to each bite while the mustard brought the vinegar which helped to cut through some of richness of the meat on meat tastes. I did like the chili cheese dog but today the pastrami dog was the winner in my eyes.
Either one of these dogs could have easily been a meal by themselves but being the wiener hound that I am I had to stuff two of them in my pie hole. I was thoroughly content and was ready to take a nap from the food induced coma that was hitting me. I cannot wait to get back to Otis Dogs and try one of the other concoctions they have available. Hooray for Wiener Wednesday!